A Bitcoin wallet is an application or device in which you can store your Bitcoins (BTC). Being a form of digital currency, Bitcoin can't be stored anywhere except crypto wallets. Finding trustworthy and safe wallets is time consuming and can get frustrating. Fret not, we scoured the internet to find the best bitcoin wallets that are both open source (free) and commercial (paid).
Our handpicked list of the best Bitcoin Wallets will save your time and help you get started with storing your BTC safely. It encompasses various types of wallets such as Hardware, Software, Paper wallet, Browser wallets, you name it. So, without further ado, let's get started.
Types of Bitcoin Wallets
There are many types of Bitcoin wallets that can be categorized predominantly into 3 categories. Each of these BTC wallets come with their fair share of tradeoffs between security and convenience.
These Bitcoin wallets are ideal for holding your everyday spending/trading money (hot wallets) as well as for your long term savings (cold wallets). If we delve a little deeper, even these 3 types of BTC wallets can be further classified into several other types of wallets. But, we will keep it simple and succinct for your quick understanding.
Hot Storage or Software Wallets
These types of wallets are mostly in the form of a software or mobile application and are used for storing your cryptocurrency keys online. Hot wallets make spending and transferring your BCT tokens very easy and provide an extra backup in case you lose your passwords.
However, hot wallets run the risk of getting their servers hacked and you might lose your cryptocurrency in the unforeseen event of a cyber attack.
Cold Storage or Hardware Wallets
Cold storage or hardware wallets store your keys offline in a flash drive or a portable hard drive and naturally provide an immunity against hacking since it is tough to hack something that isn't connected into the internet.
However, cold storage wallets can cause inconvenience when you are transferring your BTC to another wallet, exchange or person. Also, losing access to a cold storage wallet implies losing your Bitcoin(s) forever.
Hard Storage or Paper Wallets
Paper wallets are used to print or write down the keys to each BTC token on a piece of paper and save them in the form of a hard copy. Akin to hardware wallets, Paper wallets cannot be hacked. Plus, they are even more convenient and portable than hardware wallets.
However, just like hardware wallets, paper wallets are a hassle to transfer your Bitcoins and if you lose access to this important slip of paper, you run the risk of losing your Bitcoins forever.
10 of the Best Bitcoin Wallets 2022
With a robust digital cold storage wallet of the size of a thumb drive and a powerful 100mAh battery, the Ledger Nano X is a premier hardware wallet that should definitely be on your radar. Secure to the brim, the Ledger Nano X is ergonomically designed and sports an easy-to-use interface. What's more, the Ledger Nano X can be paired with several Bitcoin exchanges as well as hot storage wallets for transferring and trading your Bitcoins with zero hassle.
Weighing in at just 34 grams and composed of compact stainless steel and plastic material, this hardware wallet can manage 24 cryptocurrencies and over 1250 ERC-20 tokens directly from your desktop or mobile device.
Sporting a super clean and easy-to-use interface, Exodus is a nifty desktop and mobile wallet that supports a plethora of currencies including Bitcoin. Exodus stores your BTC in a software installed on your computer. Primarily a hot storage wallet, Exodus doesn't store your information in the constantly online environment of a web server.
It has applications available on both desktop (Windows and Mac) and Mobile (Android, iOS) OS platforms. Not to mention, Exodus also enables users to trade a wide range of cryptocurrencies including Bitcoin on major crypto exchanges directly from within the desktop and mobile versions of its app. All in all, Exodus is one of the best bitcoin wallets for beginners learning the ropes of storing their BTC's in a desktop wallet.
Coinbase is one of the biggest cryptocurrency exchanges in the world and it also offers a dedicated wallet for storing your cryptocurrencies including Bitcoin and a melange of altcoins. While the Coinbase wallet is suited for users of its marketplace, it is also available on both Android and iOS platforms.
Beginners will find this wallet as a useful stepping stone into the world of crypto storage wallets. It comes integrated with major banking institutions around the world and offers a seamless experience for buying bitcoins by exchanging fiat to crypto.
A solid hardware wallet ergonomically designed for stashing away your BTC holdings, Trezor Model T comes with an inbuilt responsive touchscreen and can be connected to your computer and smartphone directly from the hardware interface.
It is one of the best bitcoin wallets that can connect directly with many crypto exchanges, and can also function as a hot storage wallet once it's plugged in. That is, you will not have to manually enter your token's access keys for trading Bitcoins once Trezor Model T is plugged in.
Amongst the the first-generation open-source Bitcoin wallets launched by Ledger, the Nano S still retains its charm as a useful wallet for both beginners and experienced Bitcoin enthusiasts alike. It is a much more affordable alternative to the Ledger Nano X and supports virtually all cryptocurrencies including altcoins.
Users can simply setup a four-digit PIN code to avoid losing their Bitcoin holdings in case the device gets physically damaged, misplaced, or stolen. Nano S offers access to Ledger Live, community support, and secure space for storing up to 18 wallets. All together, the Ledger Nano S is one of the best bitcoin wallets for Bitcoin enthusiasts on a tight budget.
Guarda is a multi-pronged wallet in that it is web-based, desktop-based or mobile-based and supports over 50 major blockchains (including Bitcoin) and tokens. What's more, it also comes with a Chrome extension for seamless access to Ethereum-based blockchain apps or Dapps directly from the Google chrome browser.
Guarda generates all the public and private keys for bitcoin and other cryptocurrencies within your browsers so that you can easily send or receive bitcoins. It is a non-custodial Bitcoin wallet that never stores your private keys or information, so you own all your coins. However, you must protect your password and save a backup in case of theft or damage to the wallet.
All in all, Guarda is one of the best bitcoin wallets that deploys encryption technology for securing private keys and transactions.
A nifty mobile app-based wallet for storing bitcoins and other altcoins such as Ethereum, Ripple, Litecoin, etc. Trust wallet is the official crypto wallet of Binance, the world's leading crypto exchange.
Hence, users can seamlessly trade directly using Trust wallet on the Binance exchange without wasting time transferring funds from the exchange to other third-party wallets. It can be used to send or receive bitcoins via QR code as well. Furthermore, Trust wallet also protects your private keys and Bitcoin holdings by allocating pin numbers and biometrics to the wallet for bulletproof security.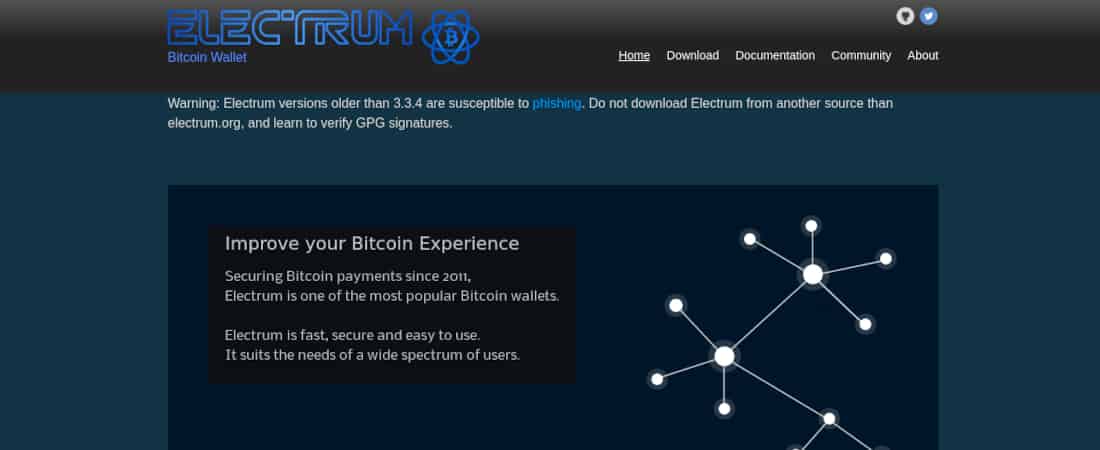 Bitcoin.org officially recommends Electrum as one of the best Bitcoin wallets which can be installed on your computer and gives you full access to your BTC holdings. Beginners will find it easy to install Electrum. For starters, it can split your bitcoin between several wallets which comes in handy especially when you have purchased different cryptocurrencies.
However, please note that Electrum is stand-alone software, and you must take steps to diligently create a backup of on a hard drive since its functioning depends on installation drive on your computer.
One of the top-tier wallets that safeguards your privacy, Edge is an anonymous Bitcoin wallet that  is available on mobile on both iOS and Android OS. Edge offers inbuilt support for Bitcoin, Ethereum, Monero and a few other cryptocurrencies.
It offers client-side encryption and provides nifty security features such as Mnemonic passphrases, two-factor authorization and login pin for bulletproof security should you lose your device or data. Since Edge is a mobile wallet you can access your Bitcoin funds anywhere on the go on its clean and easy-to-use user interface.
Rounding off our list of the best bitcoin wallets is Jaxx, a nifty BTC wallet that also helps users manage over 90 currencies concurrently. Jaxx offers a unified dashboard making it simple for users to manage and track all their crypto coins from one screen. It is a mobile only wallet and comes in handy especially for tracking your BTC holdings on the go.