Finding the right BTC wallets for an iOS device can be a cumbersome experience. Especially nowadays when there are frequent attacks on crypto exchanges that seemed bulletproof initially. Since storing Bitcoins, or crypto in general, on exchanges is no longer safe, we did the graft and scoured the internet to find the best Bitcoin wallets for iPhone that can be used to safeguard your BTC holdings.
So, without further ado, let's get started.
9+ Best Bitcoin wallets for iPhone 2022
The most popular hardware wallet on the market, Ledger Nano X also offers the Ledger live iOS app for storing Bitcoin. It is one of the most convenient and secure ways to combine a cold storage wallet with a mobile wallet.
By pairing your Ledger Nano X or Nano S wallet with Ledger Live you can add the element of bulletproof security to your Bitcoin holdings.
Formerly called Airbitz, Edge is a non-custodial hierarchical deterministic (HD) wallet that was introduced in 2013. It is widely considered to be one of the oldest iOS crypto wallets in the market and has received rave reviews. Edge offers Seed words/Back-up phrase and PIN code feature for secure access and restoring your wallet in case of theft.
What's more, you can also import/sweep private keys and get transaction fees estimates before initiating a transaction. All together, Edge is one of the best bitcoin wallets for iPhone users.
We have featured Jaxx in many of our lists such as the best bitcoin wallets  and can confidently say that Jaxx is one of the best bitcoin wallets for iPhone users. For starters, it is a non-hosted multi-cryptocurrency wallet that offers QR code support, transaction fees estimation and more.
You can also avail handy seed words/Back-up phrase and PIN feature for securing access to the wallet or for restoring wallet/keys.
Touted as one of the oldest cryptocurrency mobile wallets out there, Blockchain wallet boasts over 23 million users and being an HD wallet, it comes with a ton of features.
The Blockchain wallet is self-hosted and comes in really handy for iOS users looking for a safe storage option.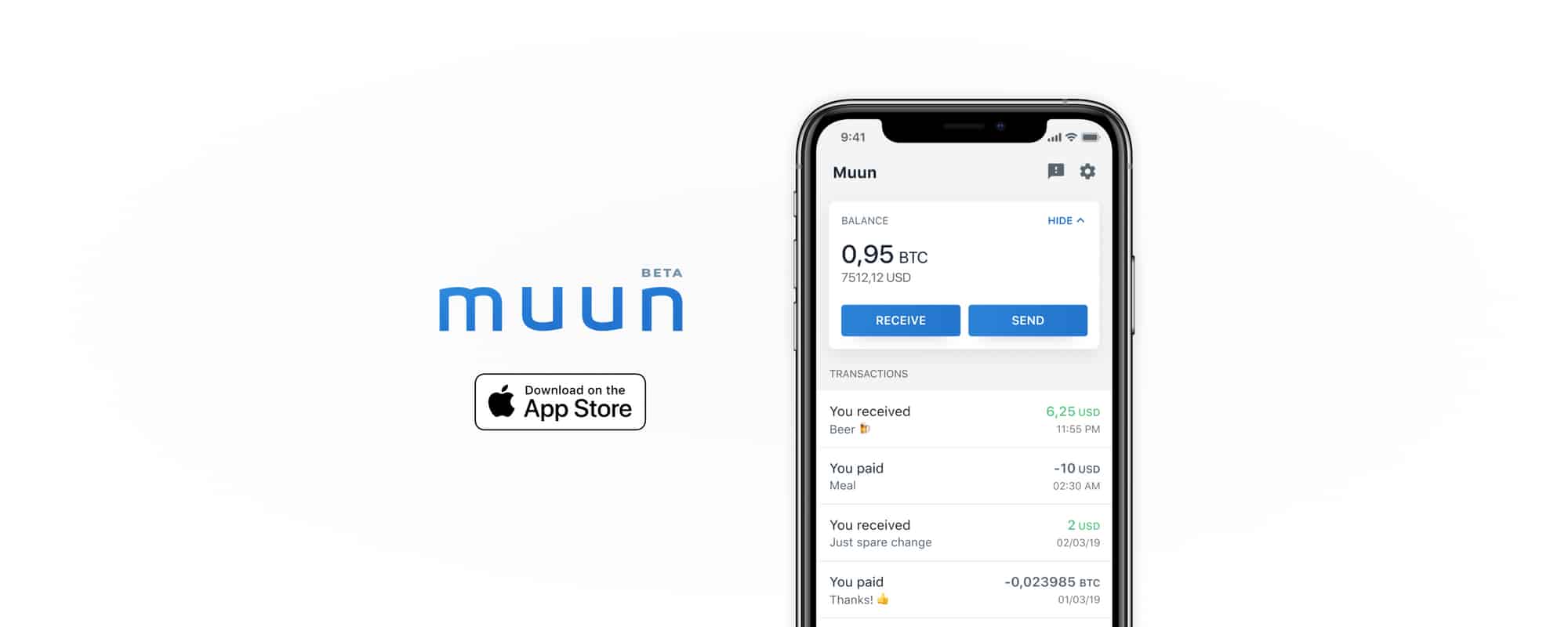 One of the best Bitcoin wallets for iPhone that lets you recover your wallet via an email address and a password, Muun offers a good alternative to non-tech savvy folks who don't prefer taking a backup of seed words. It is very apt for making  lightening fast BTC payments.
What's more, Muun is a non-custodial wallet that supports both Legacy and Segwit addresses.
A popular BTC wallet for iPhone users, Trust wallet also lets users store Ethereum, Solana, Litecoin, Polkadot, BNB, XRP, Tron, and a plethora of ERC-20 tokens.
The UI is neat and clean and navigation shouldn't be an issue for most users. Interestingly, unlike most crypto wallets, Trust wallet stores your private keys locally and protects them with multiple layers of security.
Storing, sending, and receiving Bitcoins becomes a hasslefree process with the BRD wallet at the helm. Sporting a super slick and streamlined UI, both beginners as well as advanced users can surely setup the wallet in seconds.
Furthermore, the BRD wallet requires no registration nor signups, hence one can protect their privacy without worrying about KYC compliance.
A product of BitPay, CoPay is a non-hosted HD wallet that can be used to store Bitcoin and Bitcoin Cash in a hassle free way.
Quite easy to use, CoPay is backed up by a solid core development team. Some of the usual fare that you can find on this nifty BTC wallet is seed words/backup phrase and PIN code feature, QR code support, transaction fees estimation and support for over 150 currency conversion rates. All in all, CoPay is one of the best Bitcoin wallets for iPhone which offers a multitude of features.
Rounding off our list of the best bitcoin wallets for iPhone is Bitpie. It started out as an Android-only wallet but is now also available on iOS and supports a slew of cryptocurrencies.
Bitpie is an HD wallet that incorporates features such as Seed words/Back-up phrase, PIN code to help restore your wallet on a new device in case of loss and also allows users to import/sweep private keys.
What are the Best Ways To Store Bitcoin on iPhone/iPad?
The safest and the easiest method to store your fair stash of BTC on iOS devices is to use a mobile wallet as listed in our aforementioned list. As you may know, storing cryptocurrencies on exchanges comes with the element of high risk.
After choosing the best bitcoin wallet for iPhone from the list above, please ensure that you follow these security practices also:
DO NOT store a large amount of Bitcoins on a mobile wallet
Ensure backup of your seed keys.
Always set a PIN to unlock your mobile wallet.
Keep your PIN/password hard to guess as a protective measure against brute-force attacks.