Looking for the best Altcoin wallets? Stay here because we have done an extensive rundown of all the leading wallet providers that you can use to stash away your Altcoins and ERC-20 tokens. Not only do these wallets provide bulletproof security, they also empower users to send and receive funds seamlessly from anywhere in the world. Similar to Bitcoin wallets, many Altcoin wallets can also be used to store BTC.
How to Choose the best Altcoin Wallets?
After the rapid rise of Bitcoin, there's a slew of Altcoins that appeared almost overnight with each altcoin claiming to be an improved version of Bitcoin's protocol. Take the leading altcoin Ethereum for instance. Ethereum improved upon the blockchain of BTC with its own enhanced 2nd generation platform and introduced a decentralised blockchain where anyone can develop custom decentralised apps or dApps. Ethereum further paved the way for DeFi or Decentralized Finance.
Likewise, Litecoin provides faster transaction speeds than Bitcoin despite being somewhat similar to it. Similarly, there's literally thousands of altcoins on the crypto market that have something unique to offer. And, for safely storing these altcoins we need the best altcoin wallets. Before selecting an altcoin wallet it is imperative upon you to decide what type of wallet you want.
Altcoin wallets can be categorized as hot and cold storage wallets. While hot altcoin wallets are usually software based (app, browser), cold storage wallets are hardware based. Cold storage altcoin wallets offer maximum security against theft and data loss, hot wallets have the benefit of extensive customer support. Are you ready to explore this guide featuring the best Altcoin wallets in the world? Without further ado, let's get started.
9 of the Best Altcoin Wallets in 2022
Reigning supreme at the top of the hardware wallets league is the Ledger Nano S which is an instantly recognisable Altcoin wallet. Sporting a super sleek design and robust features, the Ledger Nano S accepts over 1,100 Altcoins, ERC-20 and ICO tokens. If you are just getting started with investment in altcoins and are on the lookout for a secure hardware wallet, then Ledger Nano S is one of the best Altcoin wallets out there for beginners.
Lightweight, easy-to-use and portable, the Ledger Nano S also features a compact tamper-proof software that will store your Altcoins for years to come.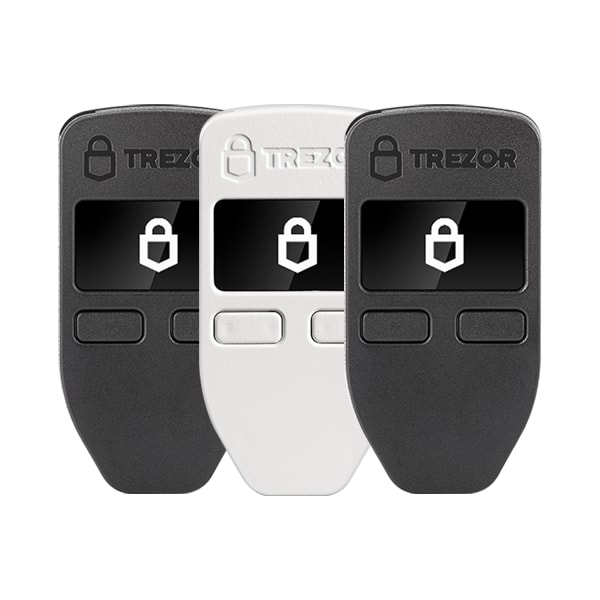 Looking for a secure and trustworthy hardware wallet within desirable budget range? The Trezor Model One is definitely worth a gander. With wide support for over 1,000 Altcoins and tokens, Trezor's Model One wallet sports smooth navigation buttons instead of a touch screen. What's more, it incorporates two-factor and FIDO2 authentication to give your wallet security a major boost.
The Model One can be paired with your smartphone so that you can add even extra features to the Trezor Model One and make it a well-rounded storage for your altcoins.
Considered by many as one of the best Altcoin wallets that is regulated, Coinbase is a hot mobile wallet protected by advanced security features. Simple and easy to use, users can connect their Coinbase wallet with Coinbase's online exchange to automatically send or receive Altcoins.
What's more, users can also connect their wallets to other popular crypto exchanges or even interact with Ethereum-based Decentralised Apps (DApps).
Thanks to its seamless integration across devices and browsers, Guarda is a formidable hot wallet that is free to set up. It is  available on iOS, Windows and Android OS as well as offers a dedicated Chrome extension, and Mac, Ubuntu, and Linux apps.
Known for its simplicity and easy usability, Guarda is a must have for beginners. It is a hot wallet that does its job pretty well for storing small amount of funds. Please note that Guarda is a non-custodial wallet so users should keep their recovery phrase and passwords safe.
A renowned name in the cryptocurrency realm, eToro is actually a crypto exchange that also offers its native eToro wallet for storing altcoins making it a convenient choice for beginners and expert traders alike. Owned by the global trading powerhouse, The eToro wallet is also a hot mobile wallet that is regulated by eToroX, which is a licensed Distributed Ledger Technology (DLT) provider approved by the Gibraltar Financial Services Commission. Hence, you can rest assured that all your funds will be safe and intact with them for the long haul.
Moreover, sending and receiving coins is pretty easy with the eToro wallet as it is super easy-to-use.  All in all, eToro is one of the best altcoin wallets that offers superior security features compared to other free regulatory wallets.
6) Exodus
A desktop and mobile wallet for both beginners and institutional traders alike, Exodus is a free wallet that enables users to buy and sell Altcoins directly and displays live price charts on the side for better judgement. With support for over 100 different coins and tokens,  you can easily manage your crypto wealth portfolio via this nifty wallet.
Exodus is a non-custodial wallet which means that it is solely up to the user to safeguard passwords and recovery phrases. If you are a trader looking to diversify their crypto portfolio and invest in altcoins, Exodus wallet is one of the best altcoin wallets that offers live trading directly via its mobile app.
Perhaps the only wallet that has extensive support for the most cryptocurrencies on this list of the best altcoin wallets, Coinomi also comes with seamless integration with shapeshift.io exchange.
If you are a privacy coin oriented person, then Coinomi is a safe wallet for you trust. Buoyed by its open source credentials, Coinomi ensures that all your transactions remain anonymous and nobody can trace them back to you. Furthermore, Coinomi stores your private keys locally and also encrypts them.
Users can also quickly glance through their balances of all altcoins, and even ascertain their combined altcoin portfolio wealth thanks to Coinomi's nifty dashboard.
Sporting a streamlined UI and built-in integration with Shapeshift exchange, Jaxx is a multiplatform multicurrency wallet that is ideal for beginners learning the ropes of crypto trading. It is completely open source and stores the private keys on your device.
Available for both Desktop (Windows, Mac, and Linux) and Mobile (iOS and Android), Jaxx aims to provide a safe platform where there is a confluence of all cryptocurrencies that can be stored with ease on its wallet.
A web-based multicurrency wallet that stores 90% of crypto  in remote servers disconnected from the internet, Cryptonator is a decent altcoin wallet that encrypts critical data over a secure HTTPS connection. With an inbuilt exchange for Dogecoin (DOGE), DASH, Monero (XMR), Litecoin (LTC), and other altcoins, Cryptonator offers a steadfast solution to trade in altcoins.
However, please note that Cryptonator has control over your funds since your private keys are accessible to them. On the bright side, even if you forget or lose your private keys, Cryptonator can reinstate your wallet in no time.
Best Altcoin Wallets: FAQs
How many types of Altcoin Wallets are available?
Primarily, there are three types of altcoin wallets: cold storage wallets and hot wallets. Whilst, Cold storage wallets are physical devices that can store all your crypto holdings and are portable, lightweight and hardware based, Hot wallets are software based storage apps or programs.
Also, cold storage wallets are usually paid tools but provide solid security against hacking, malware and spyware. Whereas, hot wallets are mostly free wallets and comparatively less secure.
What are Desktop, Mobile and Browser wallets for storing Altcoins?
Desktop and mobiles wallets are offshoots of Hot wallets for altcoins. A Desktop wallet can be defined as any cryptocurrency wallet that is downloaded on your computer and is compatible with numerous operating systems such as Windows, Mac, Linux and so on.
A Mobile wallet is usually in the form of an application that can be downloaded and installed on your smartphone. Users can simply send and receive coins with an active Wi-Fi connection. Some of the best Altcoin wallets for mobile work are Exodus, Guarda and Coinbase wallet.
A Browser wallet helps users perform transactions and access altcoin funds straight from their web browser without downloading any software.