Looking for the best crypto wallets to safeguard your BTC, ETH, ADA, BSC, or XMR holdings? Cryptocurrencies are stored on a global decentralized database called blockchain, however, these blockchains are susceptible to cyber attacks and hence need a wallet storage for protecting the funds of crypto users around the world.
Every cryptocurrency wallet has a unique address which can be used to trace it back on the blockchain. Crypto wallets store the private keys that are needed to unlock this blockchain address. They can be categorized into desktop, web, mobile, hardware and paper wallets. Depending on what you want to use your cryptocurrencies for, some wallets tend to work better than others.
In the end, it all boils down to personal choice whilst choosing the best crypto wallets amongst hundreds splattered around on the market. Some crypto wallets will cost you a fair amount of money, while others can be downloaded for free on your mobile or computer.
Types of Cryptocurrency Wallets
Hot wallets: Hot wallets use keys that are either created or stored on a device (smartphone, for example) with access to the internet. These types of wallets are often considered less secure than cold storage wallets. You should not stash large sums of crypto in these wallets for security purposes.
Cold wallets: These types of wallets are useful for storing your private keys and crypto holdings permanently offline. Wallets such as the Ledger Nano X to the Trezor Model T are considered cold storage wallets which ensure high levels of security for stashing away large amounts of money.
Exchange wallets: Most centralized cryptocurrency exchanges such as Binance and Kraken allow users to store their crypto assets. However, it is not considered a safe practice since exchanges are vulnerable to cyber attacks and ransomware.
Crypto exchanges usually hold your assets in a cold storage wallet. They are ideal for those who are looking for a replacement wallet or have a small amount of money sitting in the exchange.
Custodial wallets: These types of wallets are managed by a trusted 3rd party platform and are highly insured. Ideally, institutional investors with ridiculously large holdings prefer to pay such 3rd party entities to store their crypto in secure custodial wallets without having to worry about the daily hassles.
10 of the Best Crypto Wallets 2022
Paired with the Ledger Live smartphone app, the Ledger Nano X is a formidable force to reckon with. It is one of the best crypto wallets that hackers find hard to crack. This bulletproof hardware wallet supports Bluetooth connectivity and dispels the need for a computer or USB drive to confirm transactions. Hence, it is quite suitable for making payments on the go.
Ledger Nano X can store popular crypto such as Bitcoin, Ethereum, and even altcoins such as Cardano, Litecoin, Polkadot, Monero and many others. If you want to store Crypto in a safe location for a long period of time look no further than the Ledger Nano X.
Ledger's first release of a hardware cold storage wallet, the Nano S has managed to retain its charm and devoted user base over the years.
Although not a touchscreen wallet, this bulletproof LED hardware wallet can store Bitcoin, Ethereum, Bitcoin Cash, Monero and over a hundred other altcoins with ease and grace. It is also cheaper compared to the Ledger Nano X so if you're cash strapped, the Nano S should definitely be on your radar.
Securing your digital assets with Trezor's Model T and Model One hardware wallets guarantees complete protection against theft.  Designed for ease-of-use and foolproof security, the Model T comes with a touchscreen interface and can store about 500 different cryptocurrencies or altcoins.
On the other hand, the Model One sports an LED-only interface and requires a PIN to access the wallet along with 2-factor authentication (2FA) security layer. These unique hardware wallets are compatible with Windows, Mac, and Linux. All in all, these offerings from Trezor are considered one of the best crypto wallets in the hardware wallet space.
4) CoinBase
Trusted by more than 35 million people in over 100 countries worldwide for buying, selling, storing, and earning crypto, Coinbase is a behemoth crypto exchange that also offers its own crypto wallet for seamless transfer of funds.
Moreover, Coinbase's very own software wallet adds another layer of security making the prospect of trading on the exchange a lucrative proposition.
The industry-leading Gemini exchange (available on both PC and mobile) also offers a top-tier wallet for building your crypto portfolio. The Gemini wallet helps crypto enthusiasts stay abreast of market trends and shares trading strategies via its easy-to-use tools. The wallet can store your assets in both insured hot storage (mobile) and institutional-grade cold storage system.
For starters, users can track asset prices in real-time on the go. The wallet also makes it easier to set price alerts so that daily traders can act fast on volatile price movements.
Crypto.com's wallet is a non-custodial DeFi wallet that provides access to a complete suite of DeFi services on a single platform. With support for over 100 altcoins and full control over your DeFi holdings, the Crypto.com wallet is considered as one of the best crypto wallets for DeFi enthusiasts. What's more, you can even farm and swap DeFi tokens directly from your DeFi wallet.
This streamlined DeFi wallet also allows users to send altcoins at preferred confirmation speed and network fee.
One of the best crypto wallets that safeguards your privacy, Edge is an anonymous Bitcoin wallet  available on mobile (iOS and Android). It comes with built-in support for Bitcoin, Ethereum, and many other cryptocurrencies.
With client-side encryption and security features such as Mnemonic passphrases, 2FA and login pin for bulletproof security, Edge ensures that your crypto holdings can be recovered in case of loss of device or data. Since Edge is a mobile wallet, you can access your BTC, ETH, XMR and altcoin funds anywhere on the go on its clean and easy-to-use user interface.
The robust Ellial Titan is a hardware wallet that packs in good build with a seamless touch screen display for easily skimming through multiple cryptocurrencies. Ellipal wallets are known for their air-tightness, that is, your precious private key are protected and kept away from the internet in a fully isolated environment.
The Ellipal wallet can be paired with a mobile app to amalgamate the security of a cold wallet with the hands-on approach of a hot wallet.
Sporting a super clean and easy-to-use interface, Exodus is a nifty desktop and mobile wallet that supports a plethora of currencies including Bitcoin. Primarily a hot storage wallet, Exodus doesn't store your information in the constantly online environment of a web server.
It has applications available on both desktop (Windows and Mac) and Mobile (Android, iOS) OS platforms. Not to mention, Exodus also enables users to trade a wide range of cryptocurrencies including Bitcoin on major crypto exchanges directly from within the desktop and mobile versions of its app. All in all, Exodus is one of the best crypto wallets for beginners learning the ropes of storing crypto in a desktop wallet.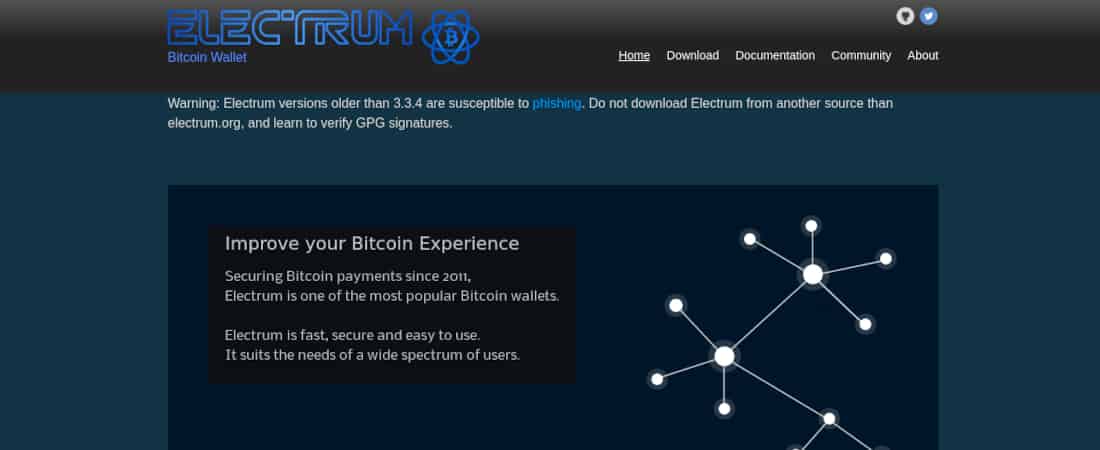 Bitcoin.org officially recommends Electrum as one of the best wallets for storing Bitcoins for beginners. Electrum is easy-to-install on your computer and gets you started real quick to get a hold of your Bitcoins. Electrum can split your BTC between several other wallets which is ideal especially when you have purchased multiple cryptocurrencies from various exchanges.
However, please note that Electrum is a stand-alone software, and you must take steps to diligently create a backup of your crypto on a hard drive. Because the functioning of Electrum depends on the installation drive on your computer.
Frequently Asked Questions: Best Crypto Wallets
What types of security does a crypto wallet provide?
2-factor authentication: 2-factor authentication, or 2FA, verifies your identity when logging into your crypto wallet. If someone gets unauthorized access to your password or manages to crack the password through hacking, they would still need to pass the second verification layer of authentication.
A 2FA password is usually in the form of a code sent to your phone that has to be entered into a sign-in field on the wallet before access is granted.
Multi-signature support: When a crypto wallet is owned by multiple people, such as business partners, a wallet with Multi-signature support invariably becomes the ideal choice. In such wallets you can setup the security to require multiple keys before access is granted.
A wallet with multisig support can bypass one person from singularly spending the funds at whim and request approval from other users before funds are being transferred to another wallet.
What to look for while choosing a Crypto Wallet?
First and foremost thing to consider when choosing a crypto wallet is the security of the wallet. Second off, how you plan to use the wallet is another factor that can influence which storage option to use. If you're planning on holding your BTC, ETH or ADA investment for the long term, a cold storage hardware wallet such as Ledger Nano X is of the best crypto wallets.
Can you store your crypto in exchanges indefinitely?
Storing crypto for a short span of time (ideally a couple of days) on an exchange is feasible if only you trust the centralized crypto brokerage to hold your private keys. Some U.S-based exchanges such as Coinbase and Gemini are considered to be relatively safe from security breaches due to their clean track record.
However, it is worth noting that several other bigwig exchanges such as Binance and Bitfinex have all been breached in the past. To sum it, holding crypto on an exchange is not recommended.
Which is better, a hardware wallet or software wallet?
Hardware wallets are the most secure way to store cryptocurrencies offline. Since software wallets are computer programs essentially, there's a possibility that an online hacker would be able to breach your wallet and seize your funds. If you want to be as secure as possible, always opt for a hardware wallet.